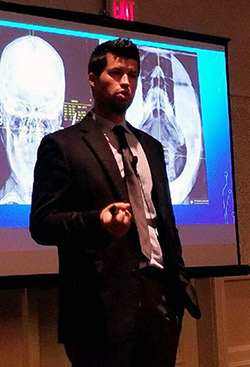 Dr. Berner is one of a handful of chiropractors in the country who is certified in Orthospinology, which is a subspecialty of the chiropractic profession, focusing on aligning the upper cervical spine.
A Highly Precise Approach
This approach uses an extremely precise 3-dimensional X-ray analysis to correct small misalignments of the first cervical vertebra, also known as the atlas. These misalignments, also known as subluxations, can cause neurological interferences to the brainstem and spinal cord. Using the Orthospinology method, Dr. Berner can identify and make a specific correction. By doing so, your body will be freed from unwanted interference.
An Instructor & Speaker
Dr. Berner serves as an instructor with The Society of Chiropractic Orthospinology, actively teaching the Basic 1 and Basic 2 Orthospinology classes to doctors and students from around the country.
He is the first person to complete all four seminars (there is also an advanced adjusting and pediatric one) in one year. Dr. Berner is also board certified, which required him to demonstrate that he is able to provide pre- and post- X-ray correction.
In addition, he speaks at various conferences. Dr. Berner is also a speaker at the Annual Orthospinology Symposium, which is a yearly event held in Atlanta.
A Research Pioneer
Dr. Berner is also involved in pioneering some new MRI research on the cervical cranial junction which could be beneficial in assisting with his upper cervical approach.
For more information about Orthospinology and how it may benefit you contact us today to book an appointment!